Did the Dominion, in fact, endure?
Ever since changelings were revealed to be the baddies of Star Trek Picard season three, this has been the question. Of course, episode titles are almost always misleading in some way, so we'll have to wait and see what happens this Thursday. Is there anything to pick out of the official synopsis? Here it is!
Crippled, cornered, and out of options, Picard stages a gambit to trap Vadic and reveal her true motive – a gamble that puts the Titan in the crosshairs and forces Picard and Beverly to question every moral code they've ever held.
"Dominion" is written by Deborah Kampmeier and directed by Jane Maggs.
Make sure to join us this Thursday night as we deep dive and review this episode 307 of Star Trek Picard. And if you haven't had a chance yet, check out this past week's episode and our interview with Todd Stashwick! We know what you've come here for; here are ten images from "Dominion."
"Dominion" Episode Images:
LeVar Burton as Geordi La Forge and Mica Burton as Ensign Alandra La Forge - Photo Credit: Trae Patton/Paramount+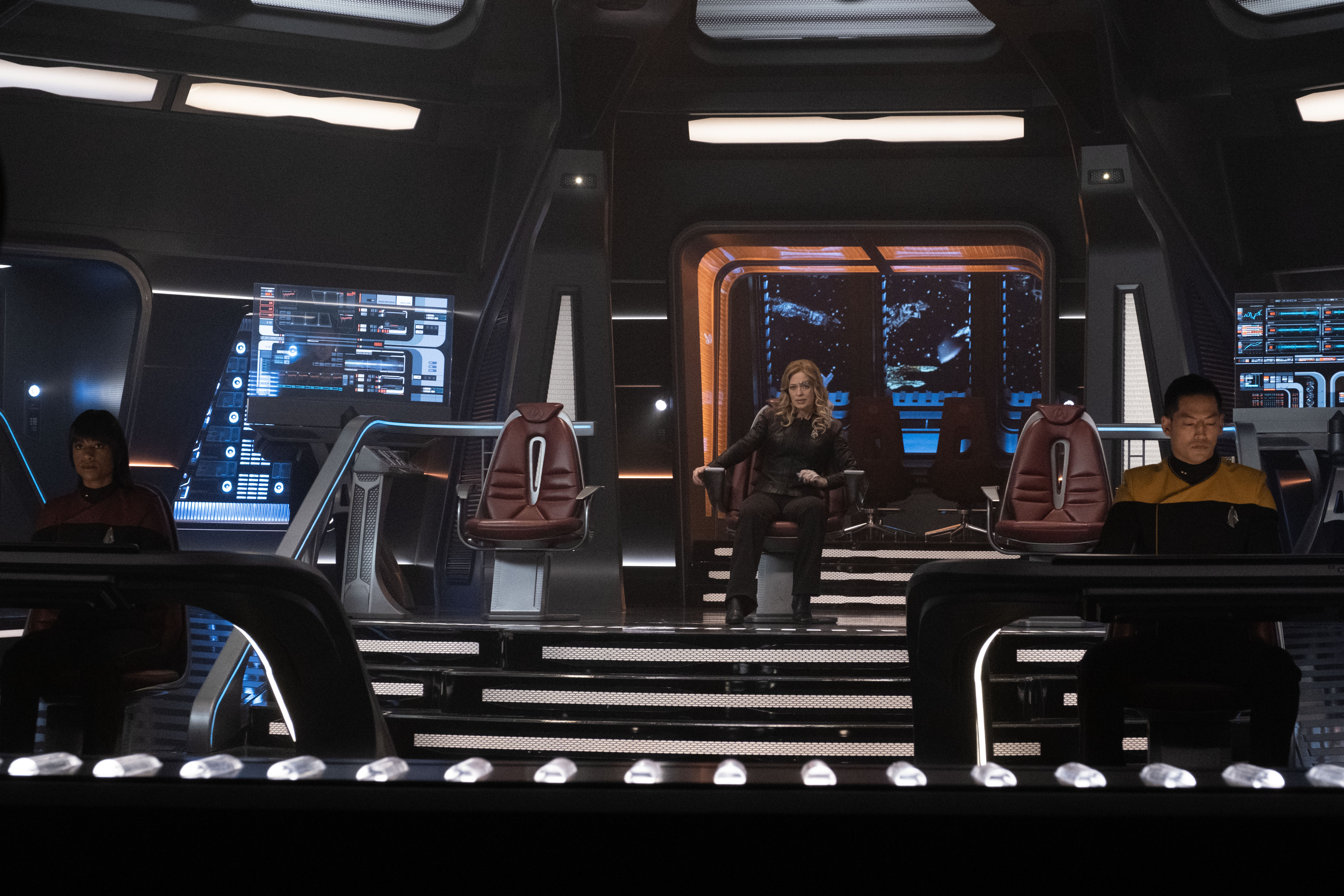 Jeri Ryan as Seven of Nine, Ashlei Sharpe Chestnut as Sidney La Forge and Joseph Lee as Lt. Matthew Arliss Mura - Photo Credit: Trae Patton/Paramount+
Gates McFadden as Dr. Beverly Crusher and Patrick Stewart as Picard - Photo Credit: Trae Patton/Paramount+
LeVar Burton as Geordi La Forge - Photo Credit: Trae Patton/Paramount+
Patrick Stewart as Picard - Photo Credit: Trae Patton/Paramount+
Jeri Ryan as Seven of Nine - Photo Credit: Trae Patton/Paramount+
Stephanie Czajkowski as Lt. T'Veen and Todd Stashwick as Captain Liam Shaw - Photo Credit: Trae Patton/Paramount+
Patrick Stewart as Picard and LeVar Burton as Geordi La Forge - Photo Credit: Trae Patton/Paramount+
Patrick Stewart as Picard and Gates McFadden as Dr. Beverly Crusher  - Photo Credit: Trae Patton/Paramount+
Ed Speleers as Jack Crusher and Ashlei Sharpe Chestnut as Sidney La Forge - Photo Credit: Trae Patton/Paramount+