Oh, yeah! We're about to start doing sci-fi stuff again this Thursday! 
In just a few short days, Star Trek Lower Decks season three will premiere on Paramount Plus, which means we're that much closer to getting some big answers after the events of "First First Contact."
Did Captain Freeman blow up Pakled Planet? Will Mariner go rogue to save her mom? Are Boimler's raisins any good? The official synopsis of the Lower Decks third season premiere, "Grounded," gives at least one of those answers.
Mariner enlists her friends on a rogue mission to exonerate her mother as Captain Freeman faces a military tribunal for the destruction of Pakled Planet.
"Grounded" is written by Chris Kula and directed by Jason Zurek.
We're back to episode reviews on the pod; LIVE this Thursday on Twitch at 9:30 PM ET. Join us with our special guest and former host, the Borg Queen of Puns herself, Brittany Tomes! But back to raisins; check out these 12 images from this Thursday's season premiere.
"Grounded" Images:
Jack Quaid as Ensign Brad Boimler, Tawny Newsome as Ensign Beckett Mariner, Bobby Moynihan as Denny, Eugene Cordero as Ensign Rutherford, and Noel Wells as Ensign Tendi - Photo: PARAMOUNT+
Bobby Moynihan as Denny - Photo: PARAMOUNT+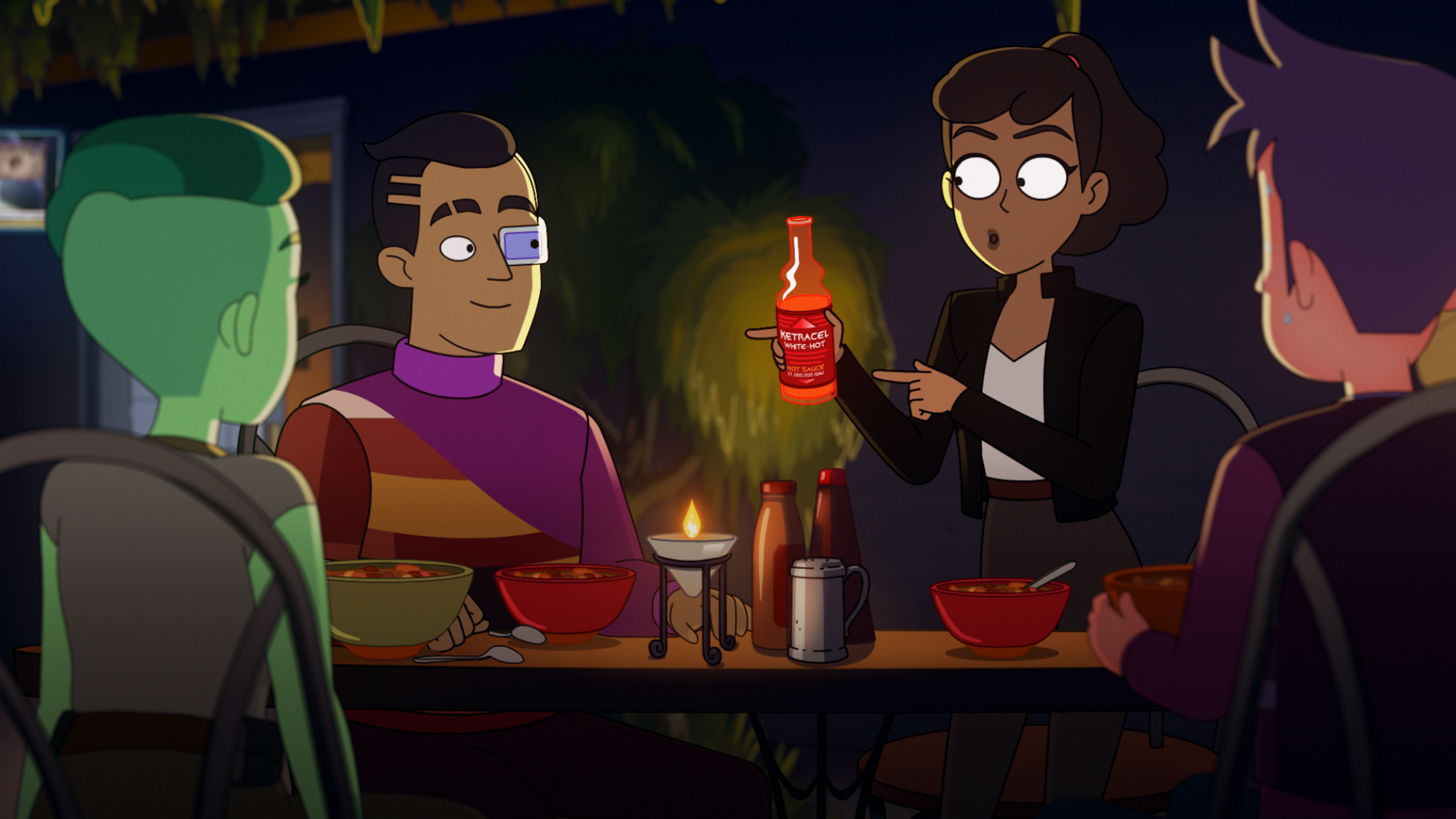 Noel Wells as Ensign Tendi, Eugene Cordero as Ensign Rutherford, Tawny Newsome as Ensign Beckett Mariner, and Jack Quaid as Ensign Brad Boimler - Photo: PARAMOUNT+
Tawny Newsome as Ensign Beckett Mariner, and Jack Quaid as Ensign Brad Boimler - Photo: PARAMOUNT+
Jerry O'Connell as Commander Jack Ransom and Tawny Newsome as Ensign Beckett Mariner - Photo: PARAMOUNT+
Tawny Newsome as Ensign Beckett Mariner - Photo: PARAMOUNT+
The U.S.S. Cerritos -Photo: PARAMOUNT+
Eugene Cordero as Ensign Rutherford - Photo: PARAMOUNT+
Jack Quaid as Ensign Brad Boimler, Eugene Cordero as Ensign Rutherford, Tawny Newsome as Ensign Beckett Mariner, and Noel Wells as Ensign Tendi - Photo: PARAMOUNT+
Tawny Newsome as Ensign Beckett Mariner and Jack Quaid as Ensign Brad Boimler - Photo: PARAMOUNT+
Noel Wells as Ensign Tendi, Eugene Cordero as Ensign Rutherford, Tawny Newsome as Ensign Beckett Mariner, and Jack Quaid as Ensign Brad Boimler - Photo: PARAMOUNT+
Jack Quaid as Ensign Brad Boimler and Tawny Newsome as Ensign Beckett Mariner - Photo: PARAMOUNT+