Mandalorian Crossover? Doubtful...
But someone should absolutely write that fan fic. No, there will be no armored bounty hunters hunting down the Titan and Jack Crusher, though you'd have to assume Vadic is back up and running and looking to get her hands on her bounty finally. As always, lots to speculate on. Here is the official synopsis for episode 306, "The Bounty.
Now on the run, Picard and the skeleton crew of the U.S.S. Titan must break into Starfleet's most top-secret facility to expose a plot that could destroy the Federation. Picard must turn to the only soul in the galaxy who can help – an old friend.
"The Bounty" is written by Dan Liu and directed by Christopher Monfette.
Join us LIVE this Thursday on Youtube at 9:30 PM ET as we welcome Bill Smith from Trek Geeks to the show to help us review "The Bounty." That's enough out of me; go hunt your bounty with these 17 images from Picard episode 306.
"The Bounty" Episode Images:
Gates McFadden as Dr. Beverly Crusher and Patrick Stewart as Picard - Photo Credit: Trae Patton/Paramount+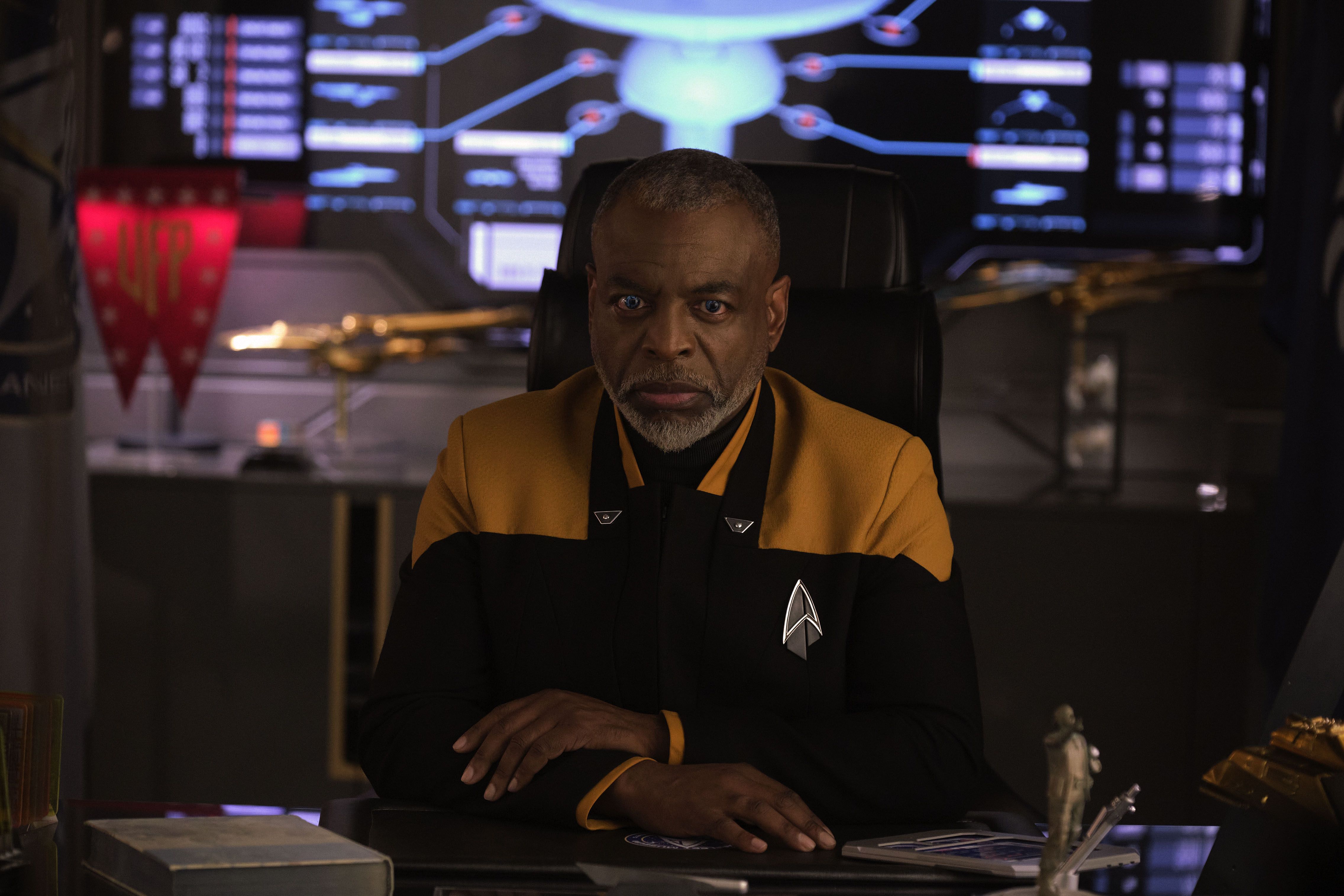 LeVar Burton as Geordi La Forge - Photo Credit: Trae Patton/Paramount+
Ed Speleers as Jack Crusher - Photo Credit: Trae Patton/Paramount+
Patrick Stewart as Picard - Photo Credit: Trae Patton/Paramount+
Mica Burton as Ensign Alandra La Forge - Photo Credit: Trae Patton/Paramount+
LeVar Burton as Geordi La Forge - Photo Credit: Trae Patton/Paramount+
Patrick Stewart as Picard and Todd Stashwick as Captain Liam Shaw - Photo Credit: Trae Patton/Paramount+
Patrick Stewart as Picard and Ed Speleers as Jack Crusher - Photo Credit: Trae Patton/Paramount+
LeVar Burton as Geordi La Forge and Mica Burton as Ensign Alandra La Forge - Photo Credit: Trae Patton/Paramount+
Patrick Stewart as Picard and Ed Speleers as Jack Crusher - Photo Credit: Trae Patton/Paramount+
Michael Dorn as Worf and Jonathan Frakes as Will Riker - Photo Credit: Trae Patton/Paramount+
Todd Stashwick as Captain Liam Shaw - Photo Credit: Trae Patton/Paramount+
Michelle Hurd as Raffi Musiker, Jonathan Frakes as Will Riker, and Michael Dorn as Worf - Photo Credit: Trae Patton/Paramount+
Michelle Hurd as Raffi Musiker and Michael Dorn as Worf - Photo Credit: Trae Patton/Paramount+
Patrick Stewart as Picard, Jeri Ryan as Seven of Nine, and Todd Stashwick as Captain Liam Shaw - Photo Credit: Trae Patton/Paramount+
Jeri Ryan as Seven of Nine, Patrick Stewart as Picard, Gates McFadden as Dr. Beverly Crusher, and Jonathan Frakes as Will Riker - Photo Credit: Trae Patton/Paramount+
Mica Burton as Ensign Alandra La Forge and Ashlei Sharpe Chestnut as Sidney La Forge - Photo Credit: Trae Patton/Paramount+