"Let's make sure history never forgets the name...

Enterprise

"
If you're still coming off the high that was the Enterprise-D reveal in the penultimate episode of Star Trek Picard, don't worry; we're still there too. Between seeing that beautiful Galaxy-class ship again and stepping foot on the bridge again for the first time in 28 years, the nostalgia just hits differently. And it seems Paramount is banking off of that with these 22 new character portraits featuring the TNG crew as well as Raffi and Seven of Nine.
Picard's series finale, "The Last Generation," aires this Thursday on Paramount Plus. The episode is written and directed by showrunner Terry Matalas. Here is the synopsis:
In a desperate last stand, Jean-Luc Picard and generations of crews both old and new fight together to save the galaxy from the greatest threat they've ever faced as the saga of Star Trek: The Next Generation comes to a thrilling, epic conclusion.
Join us LIVE this Thursday as we review the epic conclusion to the story of Star Trek Picard and The Next Generation—9:30 PM ET on YouTube.
Enterprise-D Bridge Character Portraits:
Michael Dorn as Worf - Photo Cr: Sarah Coulter/Paramount+
Michael Dorn as Worf - Photo Cr: Sarah Coulter/Paramount+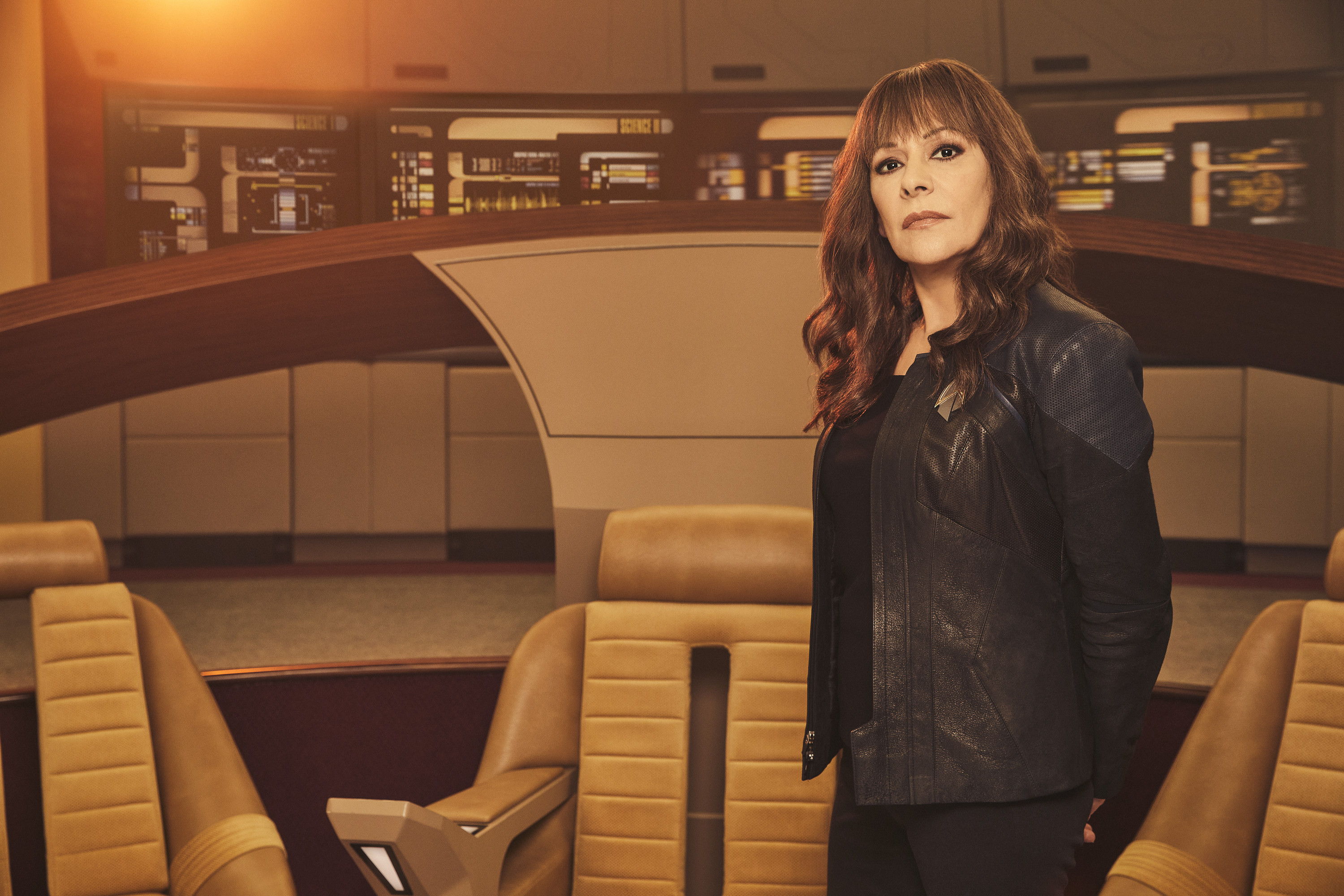 Marina Sirtis as Deanna Troi - Photo Cr: Sarah Coulter/Paramount+
Marina Sirtis as Deanna Troi - Photo Cr: Sarah Coulter/Paramount+
Jeri Ryan as Seven of Nine - Photo Cr: Sarah Coulter/Paramount+
Jeri Ryan as Seven of Nine - Photo Cr: Sarah Coulter/Paramount+
Jonathan Frakes as Riker - Photo Cr: Sarah Coulter/Paramount+
Jonathan Frakes as Riker - Photo Cr: Sarah Coulter/Paramount+
Patrick Stewart as Picard - Photo Cr: Sarah Coulter/Paramount+
Patrick Stewart as Picard - Photo Cr: Sarah Coulter/Paramount+
Patrick Stewart as Picard - Photo Cr: Sarah Coulter/Paramount+
LeVar Burton as Geordi La Forge - Photo Cr: Sarah Coulter/Paramount+
LeVar Burton as Geordi La Forge - Photo Cr: Sarah Coulter/Paramount+
Brent Spiner as Data - Photo Cr: Sarah Coulter/Paramount+
Brent Spiner as Data - Photo Cr: Sarah Coulter/Paramount+
Gates McFadden as Beverly Crusher - Photo Cr: Sarah Coulter/Paramount+
Gates McFadden as Beverly Crusher - Photo Cr: Sarah Coulter/Paramount+
Gates McFadden as Beverly Crusher, Patrick Stewart as Picard and Ed Speleers - Photo Cr: Sarah Coulter/Paramount+
Gates McFadden as Beverly Crusher and Ed Speleers as Jack Crusher - Photo Cr: Sarah Coulter/Paramount+
Gates McFadden as Beverly Crusher and Ed Speleers - Photo Cr: Sarah Coulter/Paramount+
Jonathan Frakes as Riker, Sir Patrick Stewart as Picard, Brent Spiner as Data, LeVar Burton as Geordi, Michael Dorn as Worf and Gates McFadden as Beverly Crusher - Photo Cr: Sarah Coulter/Paramount+
Jonathan Frakes as Riker, Jeri Ryan as Seven of Nine, Sir Patrick Stewart as Picard, Brent Spiner as Data, LeVar Burton as Geordi, Michelle Hurd as Raffi, Michael Dorn as Worf, Gates McFadden as Beverly Crusher and Ed Speleers as Jack Crusher - Photo Cr: Sarah Coulter/Paramount+