While it will only last one more week, fans are currently being treated to a 
Star Trek 
double feature, with new episodes of 
Discovery 
and 
Picard 
premiering concurrently on Paramount+.
And it's sure to be a big week with Discovery finally making first contact with Species 10-C and Q making his return to wreak havoc on Jean-Luc and his crew.
First, let's take a look at what only be considered to be one of Star Trek Discovery's most anticipated episodes, "Species Ten-C."
As the DMA approaches Earth and Ni'Var, Captain Burnham and the crew of the U.S.S. Discovery attempt to make First Contact with the powerful species responsible before it's too late.
"Species Ten-C" is written by Kyle Jarrow and directed by Olatunde Osunsanmi.
And after a powerful season premiere from Star Trek Picard, what explanations will Q have for Jean-Luc and his change of scenery in "Penance."
Picard finds himself transported to an alternate timeline in the year 2400 where his longtime nemesis, Q, has orchestrated one final "trial." Picard searches for his trusted crew as he attempts to find the cause of this dystopian future.
"Penance" is written by Akiva Goldsman, Terry Matalas & Christopher Monfette and directed by Doug Aarniokoski.
You won't want to miss a rare double review & breakdown live showthis Thursday on Twitch, 9:30 PM ET. Computer, load episode images.
"Species Ten-C" Episode Images:
Tara Rosling as T'Rina, Doug Jones as Saru, Sonequa Martin-Green as Burnham, Chelah Horsal as President Rillak and Hiro Kanagawa as Dr. Hirai 
Phumzile Sitole as Ndoye, Tara Rosling as T'Rina, Doug Jones as Saru, Sonequa Martin-Green as Burnham, Chelah Horsal as President Rillak and Hiro Kanagawa as Dr. Hirai 
Phumzile Sitole as Ndoye, Tara Rosling as T'Rina, Doug Jones as Saru, Sonequa Martin-Green as Burnham, Chelah Horsal as President Rillak and Hiro Kanagawa as Dr. Hirai 
Doug Jones as Saru
Tara Rosling as T'Rina 
Sonequa Martin-Green as Burnham
Chelah Horsal as President Rillak 
Hiro Kanagawa as Dr. Hirai  
Shawn Doyle as Ruon Tarka 
David Ajala as Book and Tig Notaro as Reno 
Blu del Barrio as Adira and Wilson Cruz as Culber 
_______________________________________________________________________
"Penance" Episode Images:
Sir Patrick Stewart as Jean-Luc Picard and John de Lancie as Q 
Sir Patrick Stewart as Jean-Luc Picard and John de Lancie as Q 
Sir Patrick Stewart as Jean-Luc Picard 
Jeri Ryan as Seven of Nine, Michelle Hurd as Raffi, Evan Evagora as Elnor and Alison Pill as Jurati 
Jeri Ryan as Seven of Nine, Michelle Hurd as Raffi and Evan Evagora as Elnor 
Michelle Hurd as Raffi, Evan Evagora as Elnor and Alison Pill as Jurati 
Evan Evagora as Elnor 
Alison Pill as Jurati 
Sir Patrick Stewart as Jean-Luc Picard and Michelle Hurd as Raffi 
Michelle Hurd as Raffi, Sir Patrick Stewart as Jean-Luc Picard, Evan Evagora as Elnor and Alison Pill as Jurati 
Alison Pill as Jurati 
Alison Pill as Jurati, Jeri Ryan as Seven of Nine and Sir Patrick Stewart as Jean-Luc Picard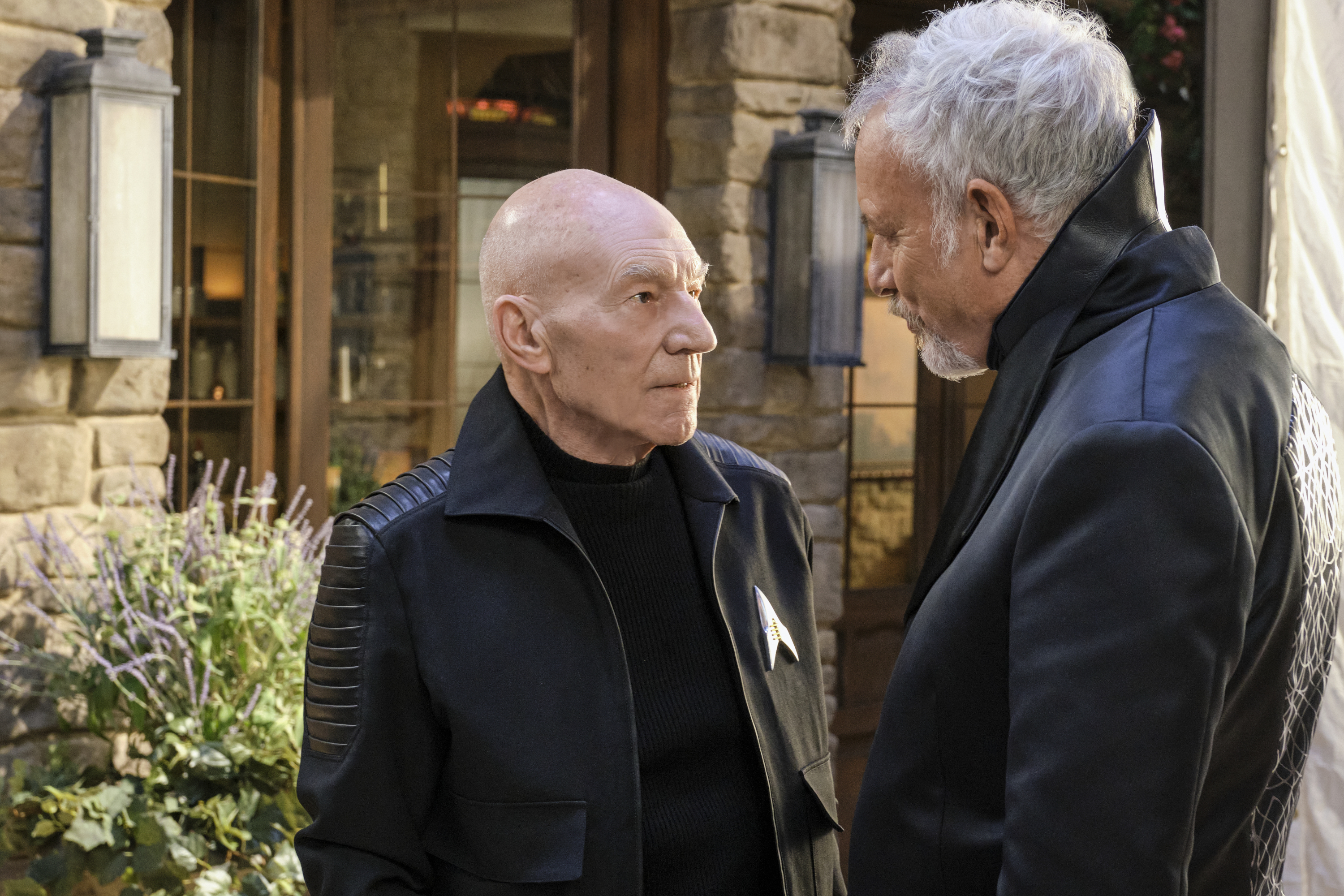 Sir Patrick Stewart as Jean-Luc Picard and John de Lancie as Q 
Sir Patrick Stewart as Jean-Luc Picard and John de Lancie as Q 
Sir Patrick Stewart as Jean-Luc Picard