Star Trek
: Mission Chicago has come and gone in the time it takes to travel a transwarp conduit, and Strange New Pod was lucky enough to be there to experience it.
What was supposed to be Paramount's convention answer to Star Wars Celebration never quite reached that level of mega-con and instead felt small and intimate. This was a plus for those who don't like massive crowds, and some amazing memories were made over the weekend.
Every con has its highs and lows, and Mission Chicago was no different. So let's break it all down. I like to end an article with the positives, so it's right down to what didn't work first.
What Missed the Mark?
NFT Showcase
To use a tried and true metaphor, the giant elephant in the room was Paramount's partnership with NFT company Recur and the subsequent unveiling of Star Trek: Continuum. The marketplace and metaverse where packs could be bought containing ships randomly designed by a computer algorithm; the result were, well, not good.
Recur and Star Trek: Continuum was the centerpiece of the Mission Chicago showroom. The first thing convention-goers were treated to was a giant rectangular setup plastered with Star Trek: Continuum. Although I never stepped got close enough to be hassled by Recur's staff, the structure was enticing. Inside was a holodeck setup right out of The Next Generation. For fans who don't know anything about NFTs and how problematic they are, the showcase of having a holodeck could undoubtedly be enough to at least peak the interest of folks who do not know better.
Fortunately, Recur's public sale during the convention came and went with little more than a whimper, with only 3,381 NFTs sold. Over 75% of Recur's absurdly priced ($250) "Captain's Packs" were still available when the public on-sale closed.
Exhibition Hall
Let's stay on the main exhibit floor for a minute. For what was supposed to be a major convention, you would never have known it by the lack of booths, vendors, and overall things to do.
From conversations I had with fellow podcasters and Trek content creators who had booths on the floor, I was told that at least ten vendors canceled last minute. This was painstakingly obvious by the sheer amount of open space in what was a vast space in the McCormick Place Convention Center.
The skull of Gul Dukat from Picard episode 202, "Penance"
That's not to say there weren't some highlights. The skulls from Star Trek Picard episode 202 were on full display for everyone to see at the convention, and there was a consistent amount of traffic around them throughout the whole weekend.
Next to the skulls was what I thought was the crown jewel of the exhibition hall, and that was the Strange New Worlds costuming exhibit. There was a line to enter the enclosed space almost every time I walked by it. Once inside, Trekkies were treated to a wide variety of Starfleet uniforms, Vulcan robes, away mission gear, and some other beautifully crafted pieces from Strange New Worlds costume designer Bernadette Croft who I had the pleasure of meeting at Mission Chicago.
Also inside the Strange New Worlds exhibit was a highly detailed model of the USS Enterprise, built by John Eblan, as well as some concept art, props, and more.
Cadet Uhura Uniform / USS Enterprise model / Away Mission Jacket / Phaser and communicator
The Ink Fusion Tattoo Empire setup was also a really cool sight. Mission Chicago was the first time Ink Fusion was allowed to have a tattoo setup at a Trek convention, and it was fantastic to see so many Trekkies get their first tattoo of the franchise they love. I finally got a long-overdue tattoo of the Enterprise from Strange New Worlds, and no biggie, I got it done sitting next to Star Trek Picard's Isa Briones, who was also getting a Trek tattoo of her own.
As far as the rest of the main hall, the vendors were fine, but it was much of the same: ships and figures for sale, the limited amount of licensed Trek merch there is, autograph resellers, and that was kind of it. Unfortunately, the big vendors there, like Exo and Star Trek Wines, didn't have physical stock for sale, which I think was a missed opportunity.
Strange New Worlds Panel
For what could possibly end up becoming Star Trek's flagship show (after all, it's the return of the original Enterprise on television for the first time in 52 years), Paramount did almost nothing to hype up Strange New Worlds less than a month away from launch.
Fans who decided to attend the panel had many reasons to be excited. It included Anson Mount (Pike), Ethan Peck (Spock), Rebecca Romijn (Una), Celia Rose Gooding (Uhura), and executive producer Henry Alonso Myers. But when the panel finally did start, there was next to know energy up on that stage. Fans were treated to the first-ever bridge scene from the upcoming series, but we had already seen most of it from teasers and trailers.
When it came to giving any hints and details about the Strange New Worlds, Myers didn't seem like he particularly wanted to be there, and Anson and Ethan were very passive when speaking about the show.
Luckily, the panel wasn't a complete bust. Celia Gooding's excitement and energy was infectious. You could tell from the minute she walked on stage how amazing of an experience it has been for her to step into the iconic role of Nyota Uhura. The same goes for Rebecca Romijn. She's a pro at this by now, and it was the remarkable women of this series who prevented this panel from becoming a snooze fest.
McCormick Place
Let's get this out of the way. McCormick Place is massive. Each convention hotel is connected to the convention center by a series of skywalks and giant halls; you don't have to step outside once if you don't want to. The whole setup is impressive, even if there was a lot of walking. And much like any convention center, it was filled with restaurants, Starbucks, and a food court.
There's coffee in that nebula..when it was open
So you might be surprised to learn then that the food court was closed for the entirety of the weekend. The Starbucks only stayed open until around 5 PM, and the main restaurant and bar within the Hyatt, Arc, stayed open at its latest until 11 PM on Saturday. Having limited amenities during a convention weekend is unheard of. Despite the food at Arc being fantastic, the hours of operation within all of McCormick place were one of the most significant letdowns of the weekend.
______________
Highlights From Mission Chicago:
Wil Wheaton Spotlight
Wil Wheaton is one of the good guys. He is a beautiful human being, so it was a shock to no one that he filled out the main stage at Mission Chicago for his panel.
A panel that tackled everything from mental health, stories about his past and being a victim of abuse to stories about the old days on TNG, and some genuinely laugh-out-loud moments, Wheaton's spotlight had everything.
Dare I say, Wheaton did an even better job hyping up Strange New Worlds than the show's actual panel. The few times he mentioned the upcoming series speaking about research for his Trek post-show, The Ready Room had fans perk up while also playfully telling him to knock it off. Overall, this was a delightful experience and a great way to kick off Mission Chicago.
Star Trek: The Motion Picture Director's Edition 4K Remaster Screening
We're not going to spend a lot of time here simply because we sat in the main stage and watched this beautiful remaster together as Trekkies, and that's special in its own right.
But what was even more special was producer David C. Fein's passion for restoring the Director's Edition of The Motion Picture. You can tell how much love and care he put into restoring director Robert Wise's vision for the film from the original negatives. You can tell it was a very emotional night for him, specifically when the blu-ray that was provided skipped a chapter and couldn't be played back.
Luckily, everyone understood: technology happens. After the film, a massive line formed for David to sign the gorgeous posters handed out before the movie started, each with a personalized message.
Lower Decks Panel
The Lower Decks cast and crew taking over the main stage may take the cake for the best panel of the weekend and overall fun had at Mission Chicago. You knew you were in for a wild ride when creator Mike McMahan introduced Jerry O'Connell, Noël Wells, Jack Quaid, and Tawny Newsome to the stage in their full Starfleet uniforms.
We were immediately treated to a teaser for the show's upcoming third season, a first look at the poster, and an exclusive first look at one of season three's cold opens. On top of that, since it was their first time all attending a convention together, Mike McMahan wanted the packed main stage to cheer and sing along to the Lower Decks main title. Within the first 10-15 minutes, Lower Decks had already won the day, and we chanted as only Lower Deckers know how to prove it.
Never go full Boim Boim
For the remainder of the panel, hijinks ensued. Tawny Newsome was ribbed about her love for Les Mis, Jack Quaid went full "Naked Now," and Mike McMahan gracefully ducked around a couple of not-great questions from the audience. The one-hour-ish panel is something I'll remember for a long, long time.
Kate Mulgrew Panel
Written by Karyn Brown
Anyone who has seen Kate Mulgrew speak knows she is a powerhouse and commands whatever room she is in front of, and her Mission Chicago solo panel was no exception. Unlike her later appearance in the Prodigy panel, this spotlight was more intimate, as she talked about her writing process, acting journey, and shared some heartfelt thoughts on her part in Star Trek and the fan community. She also shared a teaser for her upcoming Showtime series, The Man Who Fell From Earth and talked about her other upcoming projects.
Perhaps the most personal part of the panel was the excerpt she read from her autobiographical book, How to Forget, a telling of a devastatingly sad moment from the end of her mother's life. It was beautifully eloquent, and afterward, Kate spoke about caregiving for her parents through the ends of their life and her advocacy for Alzheimer's disease.
Kate handed out sage advice during the audience questions, spoke about how she shaped the character of Janeway (including Janeway's love of coffee), made a fabulous Katherine Hepburn impression, and had the audience in stitches at points. All in all, it was a privilege to hear this amazing woman speak.
Star Trek Prodigy Panel
It indeed was the animated series of Star Trek that had the best panels at Mission Chicago. Dan Hageman, Ben Hibon, Kate Mulgrew, and a guy in a Dal costume took the stage for what ended up being a hilarious spotlight on the brand new Trek series made for kids.
The Prodigy spotlight began with a sneak peek at what's to come in the back half of season one, featuring Admiral Janeway and Captain Chakotay. We won't spoil the details of the conversation, but suffice it to say, it tugged at the heartstrings.
What really came through was Kate Mulgrew's pride for this series and how it's opened the door for kids to start getting into Star Trek at a pace appropriate for their age group. To be honest, this came through from everyone on the stage, as both Ben and Dan also detailed the amount of time and energy it took to make sure they got the look, feel, and tone of Prodigy just right.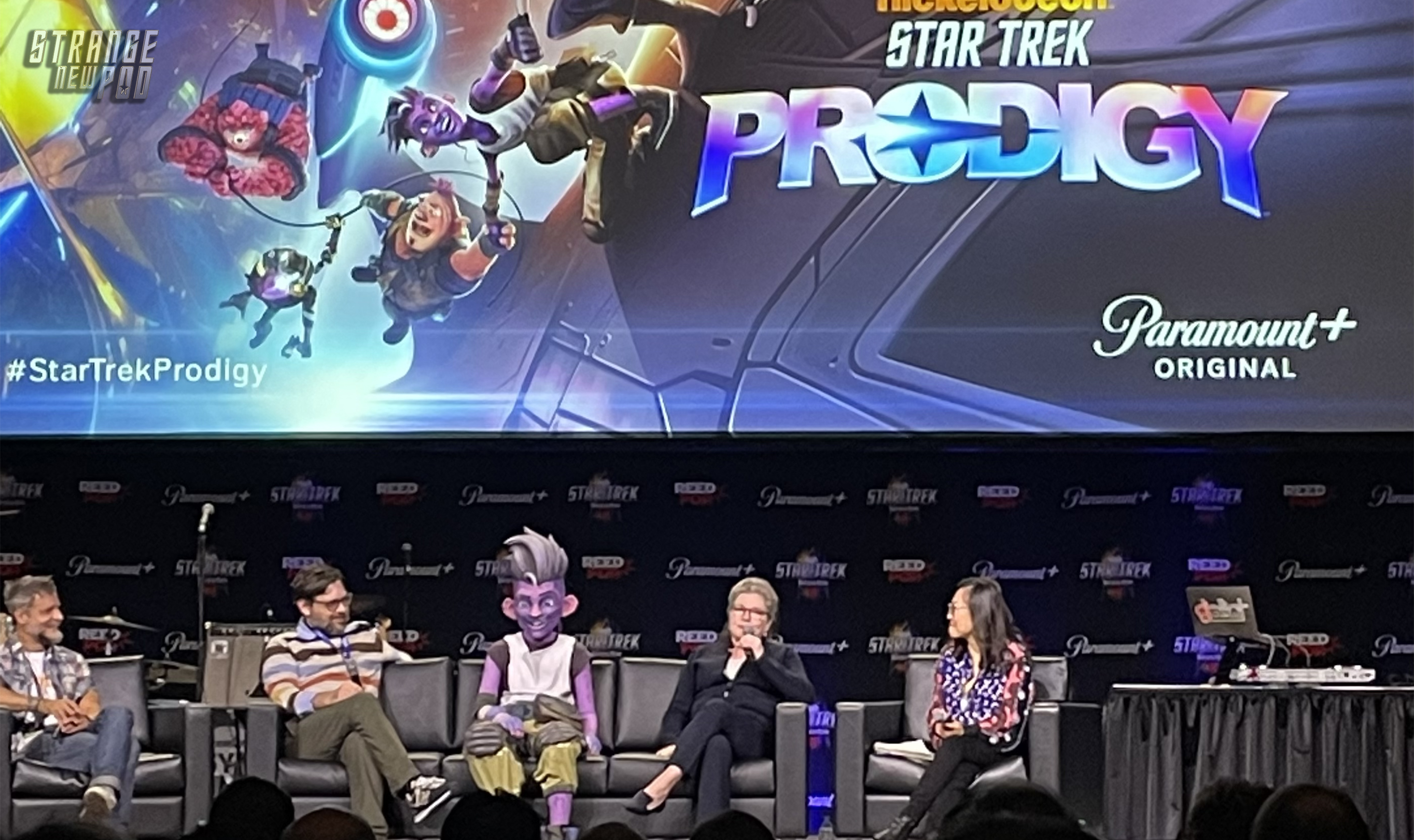 Captain on the Bridge!
The highlight for me was Kate Mulgrew throwing shade at the Dal on stage for almost the entire time, at one point threatening to pull on his purple tail. Fans in the seats were constantly cracking up, and it was apparent how much fun she was having. Add the questions that came from the little ones in attendance; it was indeed something special.
Conclusion
Mission Chicago never felt like a mega convention like Star Wars Celebration or Comic-Con, but that is not a bad thing. From the first-hand accounts I've received from acquaintances, friends, Girafe, and our discord collective, everyone seemed to have a fantastic time.
Were there some blunders? Absolutely, but that is inevitable at big events like this. Given that this was the first of what is going to be Star Trek's big yearly event, growing pains are part of that process. Speaking personally for myself and many of our listeners and fans, Mission Chicago was truly an incredible weekend and experience. And the best is yet to come: we will see you at Star Trek Mission Seattle next May.