These past ten weeks seem to have flown by at warp nine.
But the time is finally here (see what I did there?). Strange New Worlds' first season finale is upon us, with plenty of twists and turns to keep you guessing what will happen next. No more teases, though; here is the synopsis for the season finale, "A Quality of Mercy."
In the season one finale, just as Captain Pike thinks he's figured out how to escape his fate, he's visited by his future self, who shows him the consequences of his actions.
"A Quality of Mercy" is written by Henry Alonso Myers & Akiva Goldsman and directed by Chris Fisher.
It's a little sad to say, even with more new Star Trek down the line, but this is our final Strange New Worlds Livestream until season two. Make sure to join us with our friends and special guests, Ashlyn and Rhianna, from The Duras Sisters Podcast LIVE on Twitch this Thursday at 9:30 PM ET. Without any more delay, check out these 17 images from "A Quality of Mercy."
"A Quality of Mercy" Episode Images: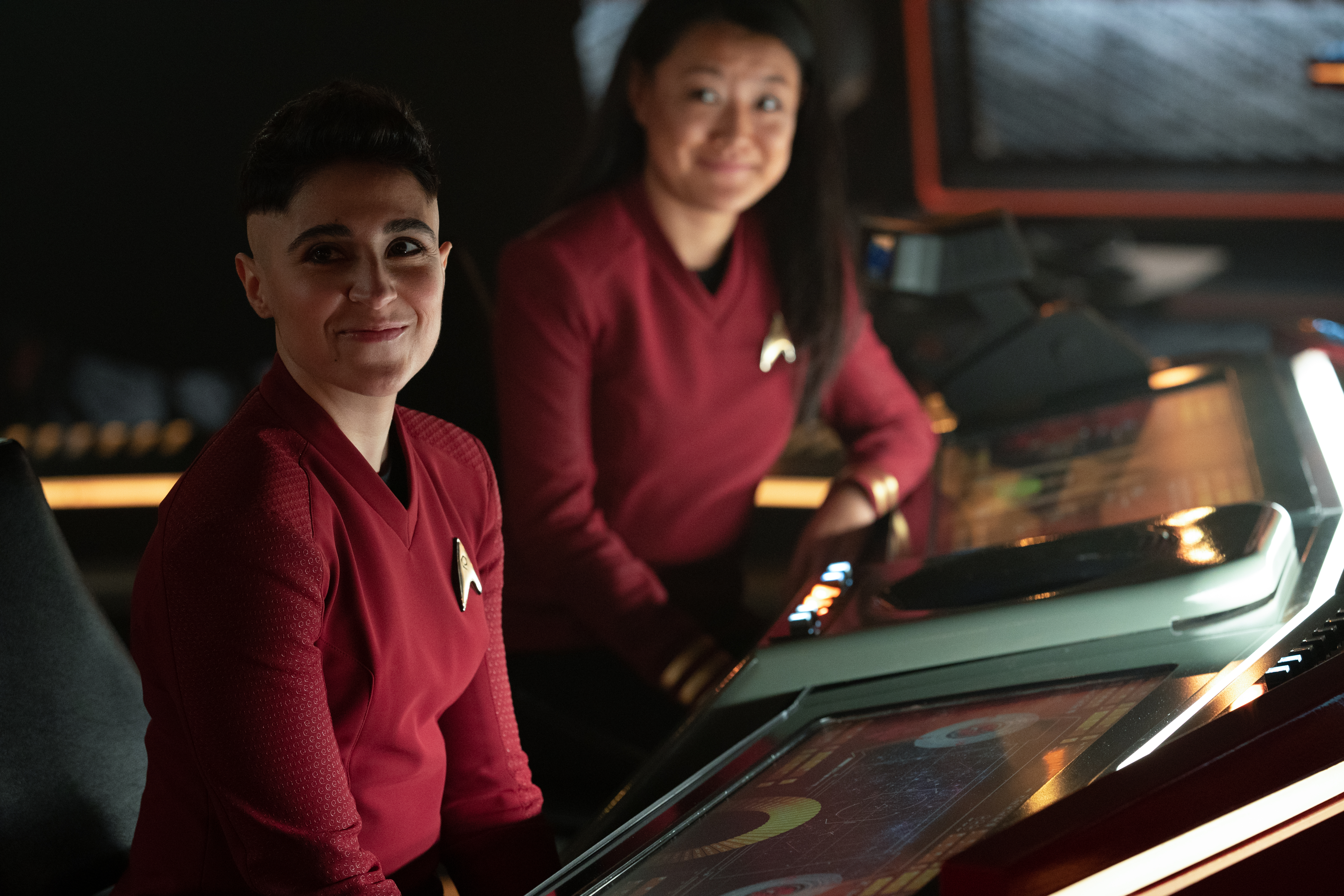 Melissa Navia as Ortegas and Rong Fu as Mitchell - Photo Cr: Marni Grossman/Paramount+
Anson Mount as Pike - Photo Cr: Marni Grossman/Paramount+
Dan Jeannotte as Samuel Kirk - Photo Cr: Marni Grossman/Paramount+
Celia Rose Gooding as Uhura, Anson Mount as Pike, Melissa Navia as Ortegas, and Rong Fu as Mitchell - Photo Cr: Marni Grossman/Paramount+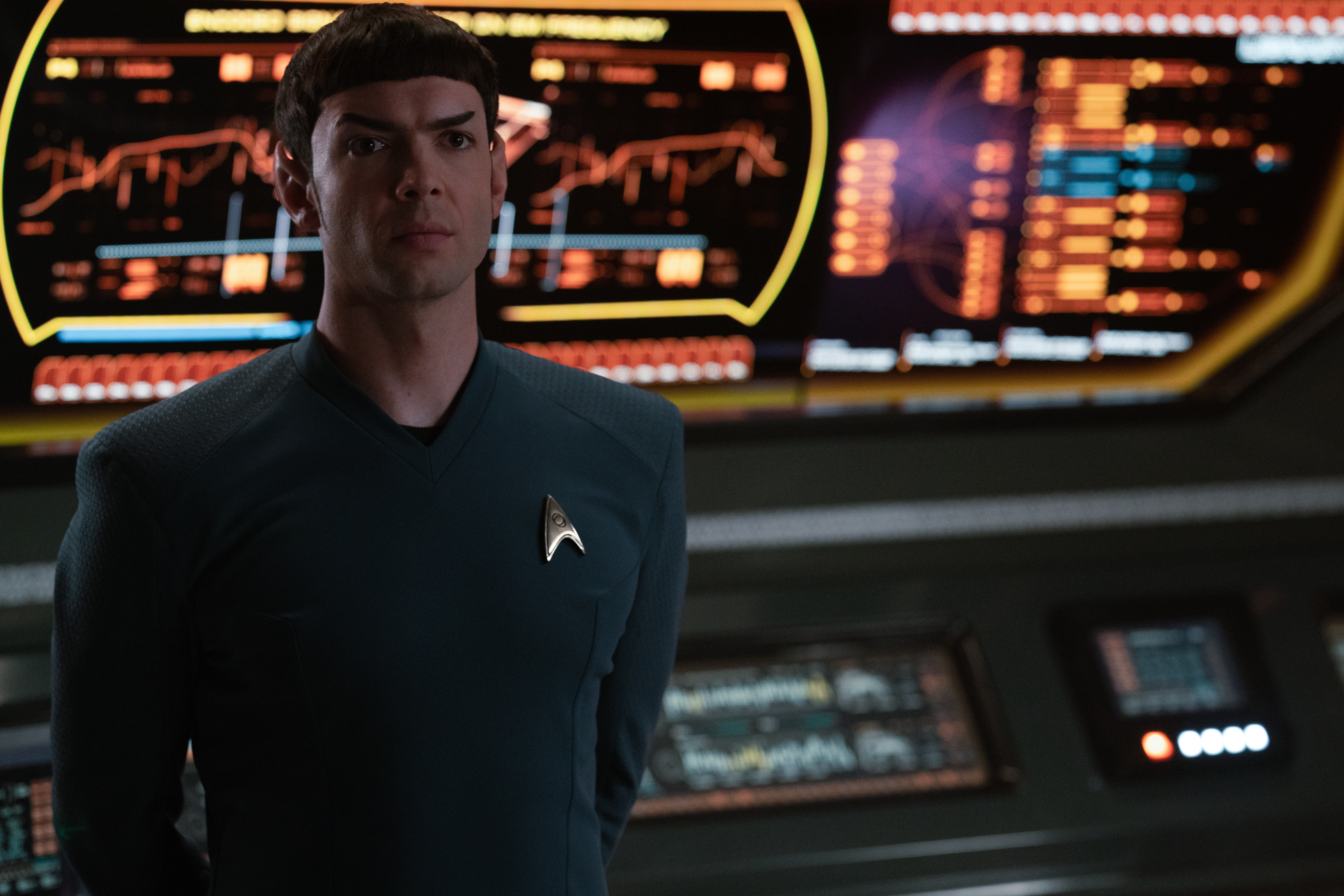 Ethan Peck as Spock - Photo Cr: Marni Grossman/Paramount+
Melissa Navia as Ortegas and Rong Fu as Mitchell - Photo Cr: Marni Grossman/Paramount+
Melanie Scrofano as Captain Batel - Photo Cr: Marni Grossman/Paramount+
Dan Jeannotte as Samuel Kirk - Photo Cr: Marni Grossman/Paramount+
Ethan Peck as Spock, Anson Mount as Pike, Dan Jeannotte as Samuel Kirk, and Celia Rose Gooding as Uhura - Photo Cr: Marni Grossman/Paramount+
Anson Mount as Pike and Melanie Scrofano as Captain Batel - Photo Cr: Marni Grossman/Paramount+
Anson Mount as Pike - Photo Cr: Marni Grossman/Paramount+
Anson Mount as Pike and Melanie Scrofano as Captain Batel - Photo Cr: Marni Grossman/Paramount+
Anson Mount as Pike - Photo Cr: Marni Grossman/Paramount+
Celia Rose Gooding as Uhura - Photo Cr: Marni Grossman/Paramount+
Anson Mount as Pike - Photo Cr: Marni Grossman/Paramount+
Anson Mount as Pike - Photo Cr: Marni Grossman/Paramount+
Ethan Peck as Spock, Anson Mount as Pike, and Dan Jeannotte as Samuel Kirk - Photo Cr: Marni Grossman/Paramount+