Captain Picard Week is back for one more year, sending off Jean-Luc Picard and the 
TNG 
crew in fashion
Captain Picard Week II will once again dive deep into the history, lore, and character of Jean-Luc Picard and will run from February 9th to 15th. The festival will take Trek fans right into the final season of Star Trek Picard with a variety of different voices from all around the Trek podcast community.
All Captain Picard Week II content will be live-streamed for free on the Strange New Pod YouTubechannel and available in podcast form the next day.
Thursday, February 9th
3:00 P.M. ET - Where's Beverly?
"Behind the Picard: Answers to Questions We Guarantee No One Has Ever Asked"
Although we've followed Picard through most of his adult life, he still remains a man of mystery. Until today.
7:00 P.M. ET - Earth Station Trek
"A Lifetime of Service: Picard's Career Before and After the Enterprise"
Join the EARTH STATION TREK crew for an exploration of Picard's Starfleet career when he WASN'T on the Enterprise. From the Academy to the Stargazer and from the Romulan crisis back to the Academy, Jean-Luc had a lifetime of service we didn't see onscreen!
9:30 P.M. ET - Strange New Pod
"Pitching the TNG Kelvinverse: A What If? Podcast in Three Acts"
Join the SNP crew as they try to pitch the much-rumored TNG Kelvinverse film in three acts. Rhiana Herd (The Duras Sisters Podcast) joins the team for this one.
TBD P.M. ET - "Watcher" Watchalong
With time running out to save the future, Picard takes matters into his own hands and seeks out an old friend for help. Meanwhile, Rios ends up on the wrong side of the law and Jurati makes a deal with the Borg Queen.
Friday, February 10th
3:30 P.M. ET - Trek Time
"Captain or Father? Jean-Luc and Wesley Crusher"
For Captain Picard Week II, the Trek Time! team will be talking "Captain or Father? Jean-Luc & Wesley Crusher" and how Picard played a major role in Wesley's development.
9:30 P.M. ET - Crusher Convo
"Picrusher: The Little Ship That Could"
Join the Crusher Convo Crew for a deep dive into "The little Ship that should" - the relationship of Jean-Luc Picard and Beverly Crusher! Hitting all the highs and lows of this beautiful and most unique friendship.
TBD P.M. ET - "Fly Me to the Moon" Watchalong
Picard discovers an important person from his past may be integral to the divergence in the timeline. Q continues his manipulation of the timeline, taking an interest in Dr. Adam Soong. Seven and Raffi attempt a daring rescue of Rios, while Jurati faces the consequences of her deal with the Borg Queen.
Saturday, February 11th
7:00 P.M. ET - The Random Redshirt Podcast
"The Finest Crew in the Fleet: Jean-Luc's Relationship With His Bridge Crew"
Captain Picard was a great Captain. Arguably the greatest (sorry Kirk fans). Or was he? Did he allow a little too much leeway with his senior staff or was he too hard on them? Why was Riker so drawn to pass up command after command to stay on the Enterprise? Did Picard have the perfect balance of nurturing with good order and discipline? We will answer all this and more with some great thoughts provided by The Random Redshirt Podcast!
9:30 P.M. ET - The Duras Sisters Podcast
"Stranded Picard"
Listen to The Duras Sisters Podcast in their special Picard Week segment: Stranded Picard! We will discuss all the times our Captain was stranded either by an accident or as a result of kidnapping throughout his life. Ashlyn and Rhianna will be joined by Aaron Coker (Enterprising Individuals Podcast) and Matthew Kaplowitz (Trek Untold) in this great episode and will see JL shine to get himself and others out of dangerous situations and learn something about himself along the way. 
TBD P.M. ET - "Two of One" Watchalong
With the help of Tallinn, Picard and the crew infiltrate a gala on the eve of a joint space mission, to protect one of the astronauts they believe to be integral to the restoration of the timeline – Renee Picard. Kore makes a startling discovery about her father's work.
Sunday, February 12
7:00 P.M. ET - Enterprising Individuals
"There Will Be No More Picards: The Impact of Jean-Luc in The 24th Century and Beyond"
As the captain of the USS Enterprise-D, Jean-Luc Picard has had an almost incalculable effect on the galaxy of the 24th century...but what if he had never existed? Join us as we rewrite some of the critical episodes of Jean-Luc's life and imagine a world without Picard!
9:30 P.M. ET - Green Shirt
"Blunderdome: Picard's Biggest Mistakes"
Captain Jean-Luc Picard is a stalwart example of Starfleet ideals, confident, calm, and seemingly able to diffuse any situation with an inspirational speech....but nobody's perfect. Prepare your hand for all the facepalms as Blunderdome takes a look at some of our favorite captain's gaffes, whoopsies, and faux pas in both his personal and professional life.
TBD P.M. ET - "Monsters" Watchalong
Tallinn ventures inside Picard's subconscious mind to help wake him from a coma and face both his darkest secrets and deepest fears. Seven and Raffi go in search of Jurati whom they fear has succumbed to the monster inside. Rios struggles to hide the truth of who he really is from Teresa.
Monday, February 13th
7:00 P.M. ET - Promenade Merchants Podcast
"Picard and The Women"
Heather and David are joined by The Duras Sisters, Rhianna and Ashlyn, to discuss Picard and his working relationship with the strong women that surround him. We will talk about Troi, Crusher, Seven, and Raffi and how Picard has helped support and appreciate their strengths.
9:30 P.M. ET - Trek Untold
"The Ethics of Jean-Luc Picard"
Jean-Luc Picard is known for his diplomatic methods of solving problems and was confronted with numerous ethical conflicts when he sat in the Captain's chair. Each dilemma presented branching paths of outcomes for the people affected by this. Join Matthew from Trek Untold, Ashlyn & Rhianna from The Duras Sisters, Hawk from Strange New Pod, and Dave from The Treksperts Quiz as they explore some tough ethical decisions Picard made through his Starfleet career, and whether or not they were the best choices.
TBD P.M. ET - "Mercy" Watchalong
With time running out before the launch of the Europa Mission, Picard and Guinan must free themselves from FBI custody. Seven and Raffi come face-to-face with Jurati and the horror of what she's become.
Tuesday, February 14th
3:00 P.M. ET - Le Quadrant Pop
"Le Quadrant Pop: First Contact"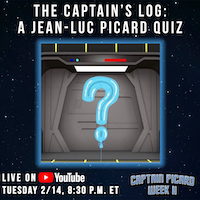 8:30 P.M. ET - Treksperts Quiz
"The Captain's Log: A Jean-Luc Picard Quiz"
Four contestants from across the Picard Week collective take on the ultimate trivia challenge. Who knows the most about the man, the myth, the legend? Watch along as they battle it out for Picard Nerd supremacy to bring glory to themselves and their houses!
Podcast
9:30 P.M. ET - "Hide and Seek" Watchalong
Picard and his crew fight for their lives as they come under attack from a new incarnation of an old enemy. But to survive, Picard must first face the ghosts of his past. Seven and Raffi have a final showdown with Jurati.
Wednesday, February 15th
9:30 P.M. ET - Strange New Pod
"Time Has Been Broken: A Look Back at Star Trek Picard Season Two"
For better or for worse, the Strange New Pod crew take a look back at Picard season two. What were their favorite moments? Least favorite moments? Hopes for season three? Julian and the crew go through it all.
TBD P.M. ET - "Farewell" Watchalong
In the season two finale, with just hours until the Europa Launch, Picard and the crew find themselves in a race against time to save the future.