What would happen if they assimilated Murf?
It's perhaps a moment we weren't sure if we would get, but the Hageman brothers have indeed gone there. Cue Jerry Goldsmith's First Contact score; Dal and the crew will come face to face with a Borg cube when a new episode of Prodigy drops on Paramount Plus this week. Here is the official synopsis for episode 112, "Let Sleeping Borg Lie."
When the crew encounters a dormant Borg Cube, Zero risks everything to save their ship.
"Let Sleeping Borg Lie" is written by Diandra Pendleton-Thompson and directed by Olga Ulanova & Sung Shin.
Due to travel and other factors, there will be no live show this week on YouTube, but look for the video and podcast of our review to drop sometime that day! Enough talk, though; the Borg don't listen anyway. Go ahead and assimilate these images from "Let Sleeping Borg Lie."
"Let Sleeping Borg Lie" Episode Images:
Jason Mantzoukas as Jankom Pog, Brett Gray as Dal, and Ella Purnell as Gwyn
Ella Purnell as Gwyn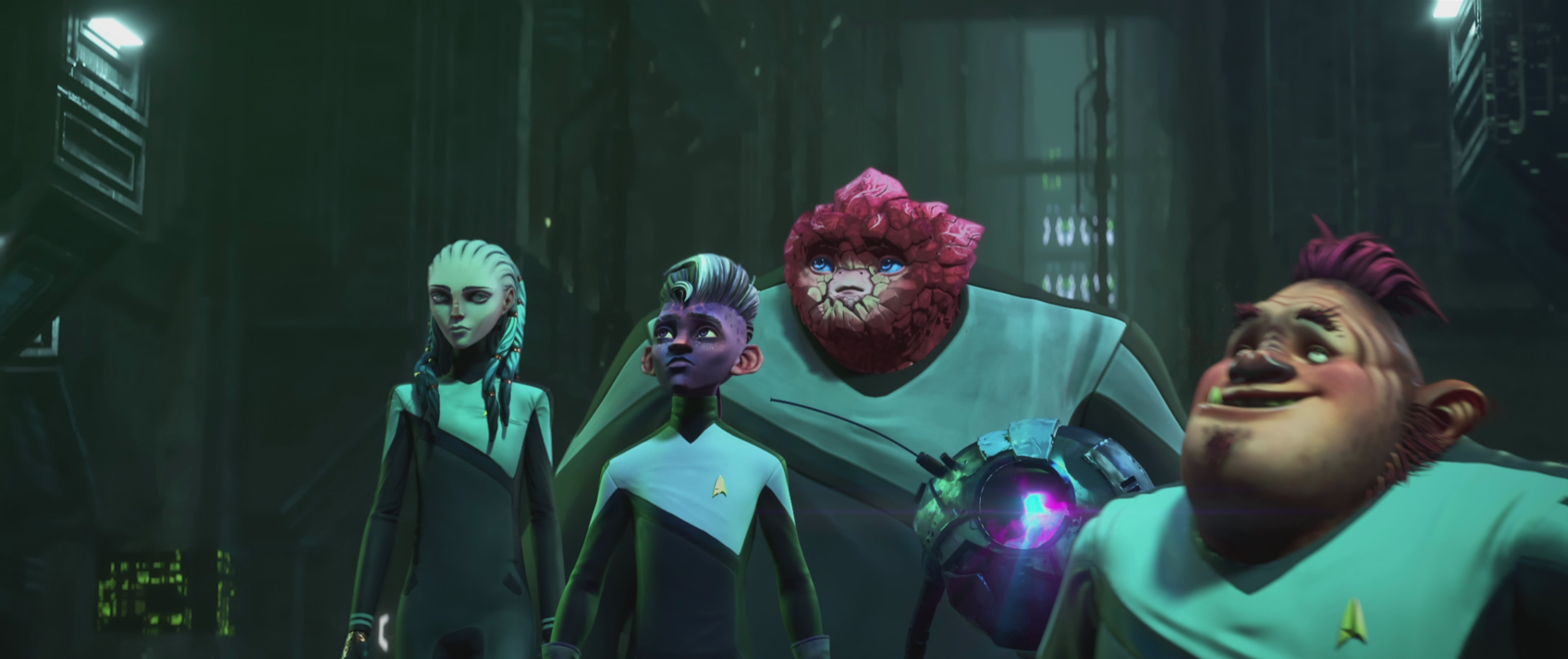 Ella Purnell as Gwyn, Brett Gray as Dal, Rylee Alazraqui as Rok-Tahk, Angus Imrie as Zero, and Jason Mantzoukas as Jankom Pog
Brett Gray as Dal, Ella Purnell as Gwyn, Jason Mantzoukas as Jankom Pog, Angus Imrie as Zero, Dee Bradley Baker as Murf, Rylee Alazraqui as Rok-Tahk, and Kate Mulgrew as Janeway
Jason Alexander as Dr. Noum and Kate Mulgrew as Janeway
Kate Mulgrew as Janeway
Brett Gray as Dal, Ella Purnell as Gwyn, Jason Mantzoukas as Jankom Pog, Dee Bradley Baker as Murf, Rylee Alazraqui as Rok-Tahk,Dee Bradley Baker as Murf, Angus Imrie as Zero, and Kate Mulgrew as Janeway
Brett Gray as Dal and Kate Mulgrew as Janeway
Ella Purnell as Gwyn and Kate Mulgrew as Janeway
Jason Mantzoukas as Jankom Pog, Ella Purnell as Gwyn, Rylee Alazraqui as Rok-Tahk, Angus Imrie as Zero, Dee Bradley Baker as Murf, Kate Mulgrew as Janeway, and Brett Gray as Dal
Kate Mulgrew as Janeway, Ella Purnell as Gwyn, Rylee Alazraqui as Rok-Tahk, Dee Bradley Baker as Murf, Angus Imrie as Zero, Brett Gray as Dal, and Jason Mantzoukas as Jankom Pog
Ella Purnell as Gwyn, Angus Imrie as Zero, Brett Gray as Dal, Dee Bradley Baker as Murf, Rylee Alazraqui as Rok-Tahk, Jason Mantzoukas as Jankom Pog, and Kate Mulgrew as Janeway
Brett Gray as Dal, Ella Purnell as Gwyn, and John Noble as The Diviner
Rylee Alazraqui as Rok-Tahk and Dee Bradley Baker as Murf
Brett Gray as Dal, Ella Purnell as Gwyn, Angus Imrie as Zero, Dee Bradley Baker as Murf, Rylee Alazraqui as Rok-Tahk, and Jason Mantzoukas as Jankom Pog
Rylee Alazraqui as Rok-Tahk, Jason Mantzoukas as Jankom Pog, Brett Gray as Dal, and Ella Purnell as Gwyn
Rylee Alazraqui as Rok-Tahk, Jason Mantzoukas as Jankom Pog, and Kate Mulgrew as Janeway
Kate Mulgrew as Janeway and Dee Bradley Baker as Murf
Ella Purnell as Gwyn, Kate Mulgrew as Janeway, Angus Imrie as Zero, Jason Mantzoukas as Jankom Pog, Rylee Alazraqui as Rok-Tahk, Dee Bradley Baker as Murf, and Brett Gray as Dal